Muay Thai (Frankston) is an effective traditional combat sport of Thailand that implements standup striking along with multiple types of clinching techniques.  Muay Thai incorporates eight weapons of the human body – fists (2) elbows (2) kicks (2) and Knees (2).  It is a natural extension of kickboxing but when fighting requires a different strategy.
Lorenzo Mossi, Christopher Close, Hugh McBain and  Billy Manne train effective Muay Thai training regimes designed to teach and develop both intermediate and advanced students.   If you are a mature aged student, then the training is adjusted to accommodate your capability.  Muay Thai at the advanced level is explosive, effective and requires cardio, flexibility, strength and mental tenacity.  We take a step by step approach to bring you up to advanced levels and to test your ability we also run kickboxing competitions and nightly sparring sessions.  We also have a support team to enter amature mod thai fights and if you desire.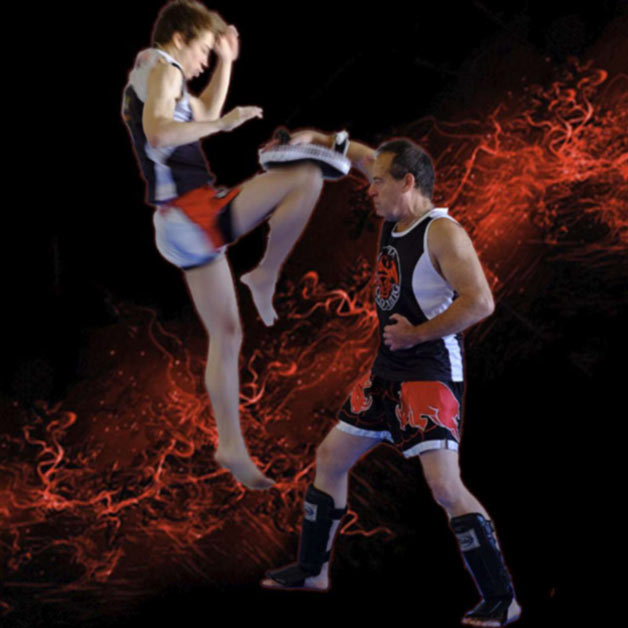 Weekly Adults MuayThai

Kickboxing Schedule
Nothing from Wednesday, 24 February 2021 to Wednesday, 24 March 2021.
Power To Weight Ratio

Muay Thai kickboxing promotes maximum power and strength for a given weight.  In otherwords you become the best you can possibly be for your weight class.

Use Of Elbows, Knees & Grappling

Muay Thai incorporates many extra devastating weapons to include in your kickboxing arsenal.  This means many more combinations of attack and defence at your disposal.

Mental Dexterity & Discipline

The use of more weapons means many different fighting possibilities – which means more mental tenacity is required

Competitions

Muay Thai on a competition level is aggressive – knees, elbows and grappling add that extra level of excitement.
Billy Manne Martial Arts teaches Muay Thai for people living in Frankston , Seaford, Carrum, Mount Eliza, Chelsea Heights, Frankston South, Langwarrin South, Bonbeach, Karingal,  Langwarrin, Patterson Lakes, and Somerville.