Learn –

Kids Karate Frankston

Billy Manne's Kids Karate Frankston is designed to teach children ages 6 and up Martial Arts.  Karate will help your child develop self-defence skills, discipline, confidence and help with self-esteem.
It is well documented that having a physical outlet for your child helps with their mental development, it's also a bonus that the skills learned in Martial Arts can help your child in dangerous situations such as intimidation, bullying and harassment. We have taught many children who have been through such trauma.  Often children who have been bullied develop shy and introverted personalities.  It is satisfying to be involved in and witness the transformation from shy and introvert to controlled and confident.
Our Kids Karate programs are structured to incorporate fun as well.  This is intentional – to try and capture the child's interest long enough so they can actually experience the benefits of Martial Arts without becoming bored.  Once your child experiences their first Martial Arts achievements (ie. a hard spinning kick or hook punch – perhaps even the splits) and they discover their newly learned capabilities, they then often do not need other stimulation in order to enjoy Kids Karate.
Billy Manne's Kids Karate is a modified version of  Zen-Do-Kai.  This Karate incorporates many forms of Martial Arts and continually evolves – so while its approximately 90% stand-up – there are lessons regarding ground fighting as well, because you never know what situations may present to the child.
When students attend a Martial Arts grading, it is never intended to be a participation trophy.  We have standards to maintain and when a child obtains a rank it is well deserved.
We sincerely hope you consider trying our Kids Martial Arts program.  We look at all our kids as being an important part of the group.  The group supports each other – they train and learn to fight with each other – they respect each other and most importantly achieve great things with their Martial Arts training.

Kids Karate Weekly Timetable

Attitude

Your child will develop a healthier attitude to elders.  Emphasis is placed on respect between students and teachers

Building Strength

Your child will develop physical fitness and mental strength

Challenges

Your child will be closely monitored and positively challenged at a pace that encourages them to progress.

Competition

If your child wishes to compete – we occasionally run inter-club competitions where they can test themselves against other children as well (Kickboxing mainly).   But this is not mandatory of course.

Experienced Instructors

Your child will learn from qualified instructors and Billy Manne himself.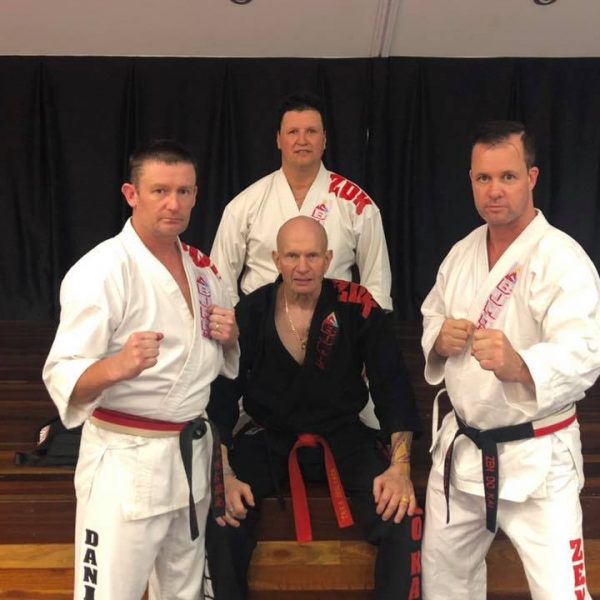 Billy Manne – My Personal Bio My life is Martial Arts. It has been my joy, my salvation, my passion,…
Read More